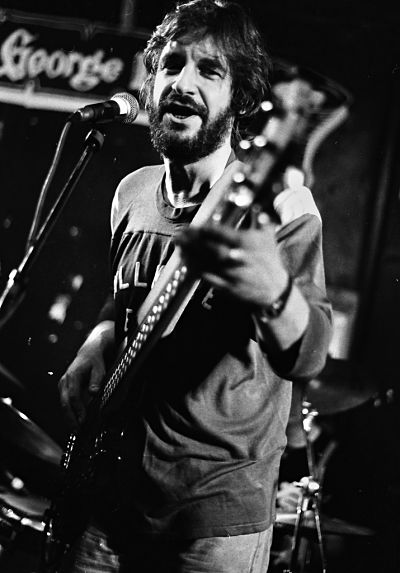 Alan Spenner, bassist (electric, fretted, fretless) by Tom Semioli 
Alan Spenner's Seminal Sides: Every record Alan played on is worthy of exploration by bassists! However his most noted slabs include: Jesus Christ Superstar (1970), Joe Cocker! (1969), Leon Russell (1970), Paul Kossoff Back Street Crawler (1973), Alvin Lee In Flight (1974), and Roxy Music Avalon (1982). Trust me, if you see Spenner in the credits, check it out! 
Artists / Bands: Joe Cocker's Grease Band, Roxy Music, Jim Capaldi, Paul Kossoff, Spooky Tooth, Alvin Lee, Kokomo David Coverdale, Bryan Ferry, Peter Frampton, Donovan, Steve Winwood, Ted Nugent, and Leon Russell, among many, many others…
What's the buzz? Tell me what's a-happening, what's the buzz? tell me what's a-happening…"
If it were only for his incomparable bass passages on Jesus Christ Superstar (1970), Alan Spenner is legend. However there is much more to his career than his work on that historic Andrew Lloyd Webber rock opera – which is essential listening for all bassists regardless of the genre in which they toil in. 
An outstanding first call UK session ace and side-man, Spenner spins lines that exuded a soulful, rhythm & blues disposition akin to Motown masters James Jamerson and Bob Babbitt. Alan's first professional gigs were with the blues/jazz outfit Wynder K. Frog which featured an impressive line-up of  keyboardist Mick "Blue" Weaver (Mott the Hoople, Keef Hartley, David Gilmour), guitarist Neil Hubbard (Bluesology), drummer Bruce Rowland (Ronnie Lane, Fairport Convention, Joe Cocker), percussionist Reebop Kwaku Baah (Traffic), and saxophonist Chris Mercer (Bryan Ferry, Chris Farlowe, John Mayall). All these musicians intersected on many of the record dates that Spenner helmed.
Given his high-profile exposure on Jesus Christ Superstar and as anchor of Joe Cocker's Greast band – which took Woodstock '69 by storm, and made several television appearance is the United States (most notably This Is Tom Jones) and England, Spenner graduated to a distinguished career as an in-demand studio player. Yet he did plenty of stage work as well, especially with Roxy Music, and Kokomo. Sadly, Alan passed at a young age (43) from a sudden heart-attack. 
Among Alan's primary weapons of choice are Fender Precision – fretted and fretless. In his later years Alan switched to Wal basses. 
Alan Spenner Sound & Vision: 
Roxy Music "Same Old Scene" https://youtu.be/vXOgQN1a7bE
Roxy Music live "Avalon," "Love is the Drug" https://youtu.be/co9TRT4Dar0
From Jesus Christ Superstar: "What's The Buzz" https://youtu.be/c3LM2iQ8p7A
Tony Senatore's renditions of Alan's passages from Jesus Christ Superstar 
"Gethsemane" https://youtu.be/vbLvAyrB6cU
"Herod's Song" https://youtu.be/jBVVKbmwQu8 
"Heaven On Their Minds" https://youtu.be/ttnashv77K4
Alan with Joe Cocker at Woodstock: "Something's Going On" https://youtu.be/kGbK5y94LOE