Courtesy CSNY Com
"Heart of Gold," "Gotta Serve Somebody," "Licking Stick"…
An undeniable Rock and Roll Hall of Fame worthy bassist as noted by this writer in Huffington Post, the late Timothy Lee Drummond's studio and stage credits span rock, blues, folk, gospel, rhythm & blues, country, jazz, and countless variants thereof.
Huffington Post / November 2016: Tim Drummond: 11 More Players Who Belong in the Rock and Roll Hall of Fame https://bit.ly/2Eu35De
A master groove player who served the song first and foremost, Tim waxed classic sides and anchored historic tours with Crosby, Stills, Nash & Young in multiple configurations; Bob Dylan, Ry Cooder, J.J. Cale, James Brown, Hank Ballard, Beach Boys, Jewel, Roy Buchanan, Rita Coolidge, Neil Diamond, Bette Midler, and Hoyt Axton, among scores of others.  
Be advised to check out Tim on the extraordinary CSNY 1974 (2014) live collection wherein his fluid lines and funky rhythms bridge the ample gaps between the oft contentious quartet of bandleaders on that historic Watergate-era trek across North America.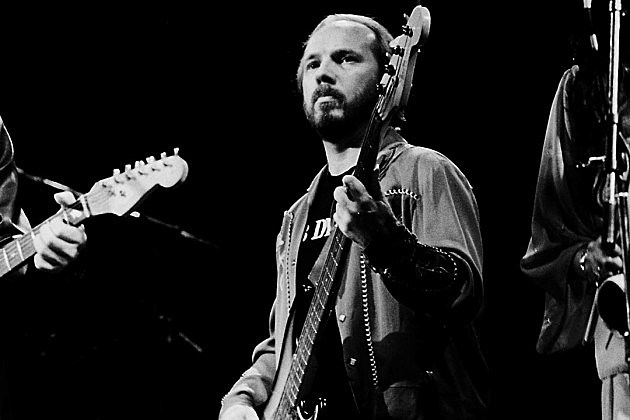 Tim Drummond Sound & Vision….
CSNY: "Almost Cut My Hair" from the '74 Tour https://youtu.be/Xiz2yZgD9B0
Bob Dylan: "Gotta Serve Somebody" https://youtu.be/0MzyBv4yOPU
Neil Young "Heart of Gold" https://youtu.be/X3IA6pIVank
James Brown "Licking Stick" https://youtu.be/6XC1H9X9R7U